The importance of data integration
In order to offer our customers a truly integrated management, we decided to develop the accounting module internally. This has allowed us to make our offer even more competitive and to respect, at the same time, that philosophy of complete customization of the software that has always driven our choices.
To meet the most diverse needs we decided to divide the accounting module into two distinct packages:
Light accounting, which is mainly aimed at those companies that entrust the entire accounting management to the accountant and whose only need remains that of managing collections, payments and the first known cash / bank.
Complete accounting, designed instead for those companies with sufficient internal skills to manage the general accounting throughout its process, until the final preparation of the Financial Statements.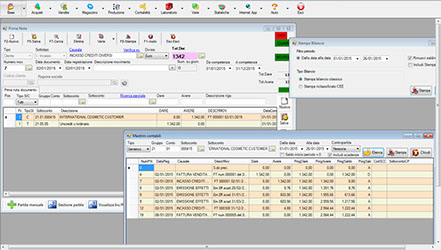 From management to accounting, the advantages of a single integrated system
The presence of the general accounting module in fact allows the company to use a single software, eliminating time wasting and possible errors due to the entry of the same data in multiple systems.
The most obvious advantage is the transit of all management documents (customer and supplier invoices, credit notes) directly into the accounting part of the program which, in doing so, will substantially automate activities for which a slow manual compilation was previously essential, such as VAT management, double entry and customer and supplier timetables.
© Technics Cosmetics S.r.l - VAT N. 02243460207 - Phone 0131-941812 - info@technics.it © 2018