Non-compliance and complaints
Designed for all needs
The increasing number of cosmetic companies that are being certified has led us to develop the various modules of the management towards a model that is as close as possible, and above all integrated with the procedures to be followed for certification. Our intentions are to avoid in this way the paper system based on Word/Excel, often badly seen by operators and penalized by the difficult integration with the management system in use.
TECHNICS has prepared the integration of these procedures in the management, so as to facilitate the exchange of information both inside and outside the company between the people involved.
Non-conformity and corrective actions
Reports of non-compliance or complaints are immediately generated by the program and, through the internal messaging system or via e-mail, notified to the competent office, so as to directly involve the staff responsible.
All the people involved are reached by a timely notification and are therefore made an active and responsible part of the quality system, to which they will give their personal contribution by channelling all the events and flows indicated by the procedures.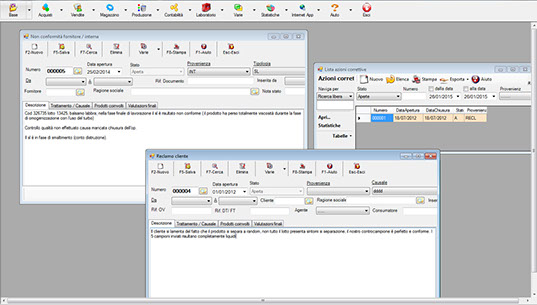 Registers and Statistics
It is possible to automatically obtain statistical registers and reports, divided, for example, by departments involved, types, relevance or origin. All reports can be exported to Excel for further processing.
© Technics Cosmetics S.r.l - VAT N. 02243460207 - Phone 0131-941812 - info@technics.it © 2018