Designed for all needs
Starting from the supplier data, price lists and quotations/orders, Technics is able to autonomously organize the supply process and constantly keep under control the evolution of the warehouse stocks. It also prepares a prospectus with the requests of offers/revenues that can be transformed into orders to the supplier and into warehouse loads, which in turn are structured with partial or complete fulfillment - according to the needs -.
Each article also provides for the possibility of distinguishing between usual and alternative suppliers (including the relevant price lists and product codes). Any information received by the program will then be reused in the production planning.
For a greater convenience of the operator, TECHNICS has been thought to make as fast as possible the examination of possible stocks of warehouse, as well as the timely updating of the costs of the products on the basis of the quantities purchased and the last price detected.
Analysis and timing of purchase orders to suppliers
To facilitate the work of the purchasing office, some functions have been specifically provided which, in addition to going to the quick search for the requested document through a wide choice of filters, allow a very detailed analysis of the status of orders to the supplier.
You will have the possibility to query, print and export not only the purchase orders, but also the production orders in work account. It is also possible to analyze the status of any line, whether closed or open, and to manage the orders directly from the schedules with a simple click of the mouse.
The aim is to provide the purchasing department with a flexible tool to keep the delivery dates of suppliers up to date and at the same time control the costs of what is ordered.
TECHNICS is able to carry out real-time analyses of the order book, providing rapid and precise information that is indispensable, such as average delays in deliveries and valuations of financial exposure over the period.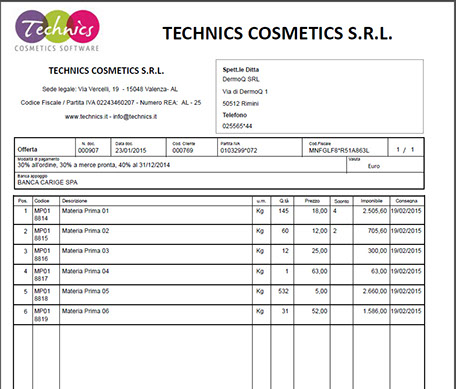 Quantity supplier lists price
In TECHNICS, the supplier lists are managed taking into account the particular problems faced by cosmetic companies. Among other things, the need to purchase products, especially raw materials, by mediating between the quantities needed for production and the cuts that the suppliers make available.
And it is precisely to provide for this type of requirement that we have thought of the price lists in steps, on which it will be possible to create up to five steps of quantity (cuts), with the matching of the relative price. You can also load the code and description of the supplier's article, if you want your code and description to be present in the order or in the request for an offer.
© Technics Cosmetics S.r.l - VAT N. 02243460207 - Phone 0131-941812 - info@technics.it © 2018