Direct connection to production
In TECHNICS all the functions present inside the modules of the sales area have been expressly conceived with the aim of perfectly integrating with the management of the warehouse and the production area.
It is possible to issue Quotations and Orders that in turn transform into DDT or invoices with complete or partial fulfillment, constantly monitoring the warehouse situation.
Another peculiarity of the program is to signal to the operator, in case of missing products at the time of the sale order, the first available date for the manufacturability according to the commitments of the goods.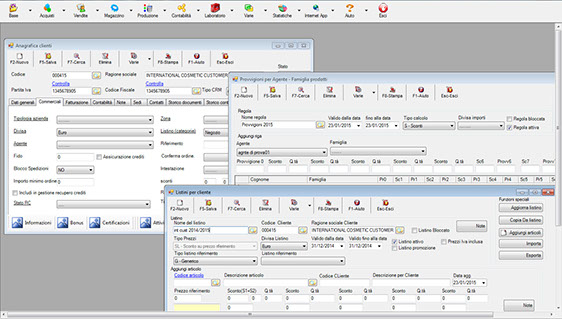 Automatic generation of production
An equally useful function, especially for subcontractors, is the ability to generate production orders directly from the customer order, with automatic distinction of the finished product from semi-finished, and the presentation of separate production orders for different departments. In addition to - in the face of a customer order that, to be produced or packaged, requires upstream the necessary supplies from suppliers - the automatic generation of purchase orders.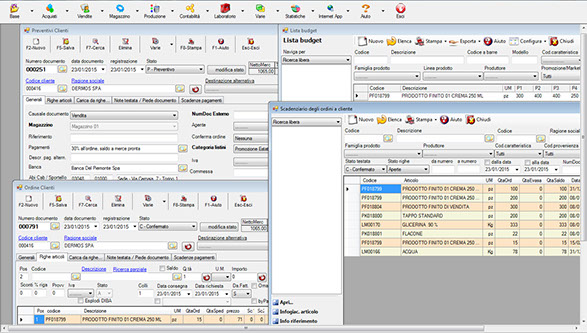 Sales lists and commissions
TECHNICS allows to manage the sales lists leaving the company the freedom to decide its own commercial conditions. In this regard, various types of price lists are prepared: General Price Lists, Price Lists by category and Price Lists for customers. For each of the above mentioned price lists it will be possible to indicate the intention to operate with Net Prices, with discounts on the Base Sale Price or with discounts on the Reference Price. It can also include the period of validity of the price list, while for generic/customer price lists can be defined the article code and its description, drawn up according to the purchaser's requests. For the sales lists it will also be possible to indicate discounts and prices according to the quantity ranges. There are also numerous "special" functions that support the user when updating, duplicating, importing and exporting data from the price lists.
Deadlines and order analysis
Also in the sales module, as already in the purchase module, there is the management of the schedules that, using the appropriate filters, provides all the information, customer by customer, on the status of orders and related production associated.
As for the management of purchases, also in this case it will be possible to obtain analysis reports both on the advance payments / delays of deliveries and on the financial exposure per customer.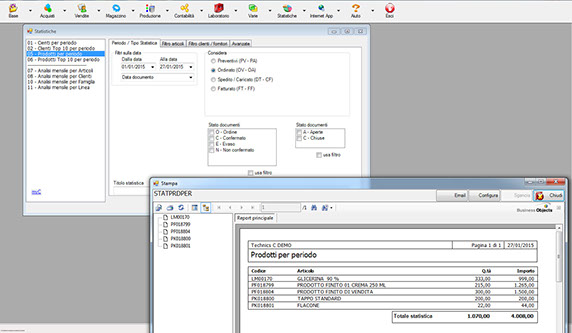 Sales budget
Designed essentially for companies that produce and market their own brands, this module offers the opportunity to insert the items that you intend to manage in the production budget, either by distributing them over twelve months or, possibly, by merging them into a period.
This insertion work - which is automated by collecting data from statistical processing of previous periods - allows the system to formulate needs according to the budget and, consequently, to generate order proposals (whether they are aimed at production or suppliers).
© Technics Cosmetics S.r.l - VAT N. 02243460207 - Phone 0131-941812 - info@technics.it © 2018